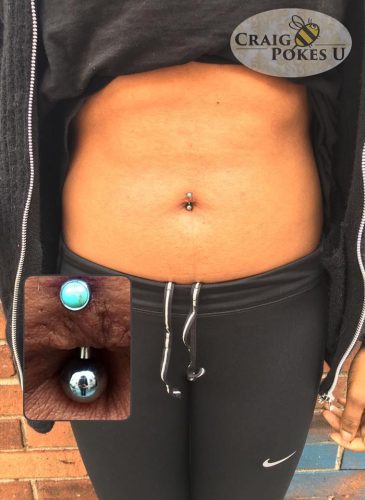 Our client, who had previously had her navel pierced but rejected due to inferior jewelry quality, came in and made the informed decision to upgrade to our implant grade titanium option.
There are many people who have severe reactions to jewelry with high concentrations of nickel, such as stainless or surgical steel – or especially the variety of mystery metals sold at malls and online. Reactions ranging from itching sensations to large and unsightly irritation bubbles to full on rejection from skin.
To avoid this, while we do offer implant grade stainless steel alternative, we primarily stock implant grade titanium (ASTM F – 136) – a 100% pure metal – safe for your skin. There is nothing your body can physically have a reaction to.
At CraigPokesU, we strive to provide you with not only quality service, but quality jewelry as well. Stop by the studio at 4818 Lee Highway in Arlington, Virginia and treat yourself to yours today!
See You On The Sharp End!
~ Craig